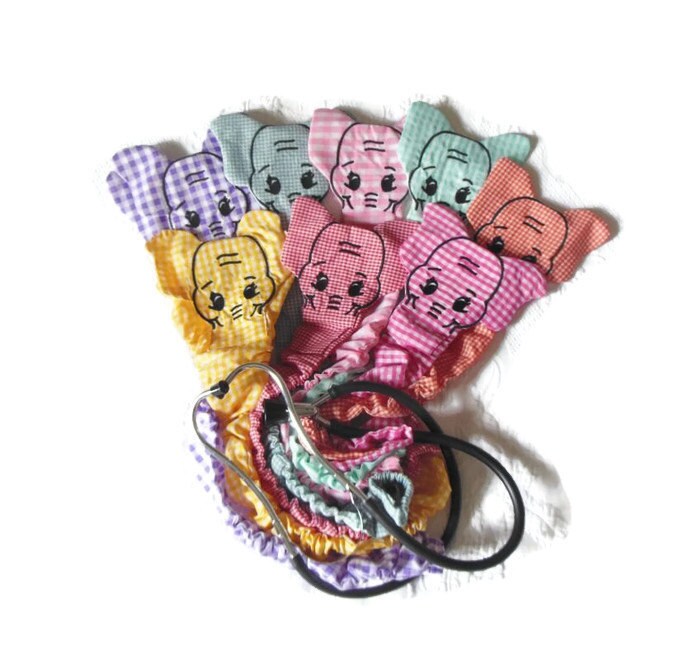 This group of critter stethoscope covers is unique in that they are made from fabric that I purchased at an estate auction.    The lady was a quilter, and I am sure her original intention was to make a quilt to keep some family member warm and comfortable.   I feel that she would be pleased with what I did with her tucked away fabric.
Due to their popularity more gingham has been purchase.    Eleven gingham colors are available.    All fabric has been prewashed. Finished covers can be machine washed and thrown in the drier.   These covers fit both single and double tubed stethoscopes.
The critter stethoscope covers made their debut at a 2011 Christmas Art Gallery! Needless to say …they were the most popular items, and definitely a great conservation starter. 
I can't remember why I started making the covers.     They were probably a request….allof my listings resulted from someone asking if I could make a particular item.   
I try to create different critter designs each year.      The 2011 designs were the puppy & tiger, 2012 designs: elephant & giraffe, 2013 designs: painted pony & kitty.     Last year's design was q hound doggie!    I have to smile when someone ask if instead of a tiger if I could I make an owl or another animal.    Oh if it was that easy!   These critter designs are the results of an art teacher (Cathie), home ec. teacher (me), and an embroidery template designer  Lorraine@canstralian.com  in Canada.    It takes months to get these critters ready to find a good home.
Since 2011 over 600 have been sold and they found new homes all over the world!    All of the critters are listed on www.myscap.patternbyetsy.com.  along with positive reviews like the one below.     
To help promote  my new e-store www.myscap.patternbyetsy.com  , I am offering a 10% discount until Septembe 1st.   I am still trying to figure out how to create a coupon.    In the mean time just write the note "PATTERN10"  in the comment /note section.  I will refund you the 10% as soon as the order it placed.
   *****REVIEWS******
"Such a cute little guy. I love it so much! I'm going to buy more. Fits my Littmann stethoscope perfectly as if it was custom made! Fabric and stitch is durable, and I received it a lot sooner than I thought! I can't wait to see all the smiles this little guy is going to bring!!! Thank you Pat for creating such a lovable addition I can use in the nursing world!!" - Davina